---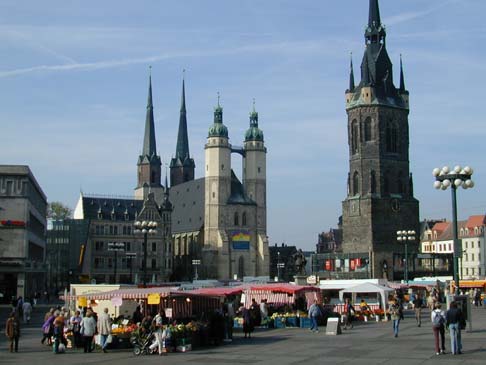 Leben in Halle
1. Accomodation
As Halle University is not connected to any campus system, you'll have to look for accommodation yourself. But don't worry; in comparison to other cities, Halle is an easy city in which to rent accommodation. It will definitely not be a problem to find a place to live.
** All necessary information for your first steps in Halle can be found on this website of the International Office:


http://www.international.uni-halle.de/international_office/betreuungsangebote/international_students/orientierung/?lang=en
a) Student housing
You can rent a room from the "Studentenwerk". In student housing you will have a furnished single bedroom and be sharing bath room(s) and kitchen with 4 to 8 people. For just a few extra Euros you can get unlimited broadband internet access.
Student housing is very affordable (approximately 195 € per month) - the disadvantage: the student residences are mostly located at the "Weinberg-Campus", about 20 mins from the main university campus.
If you wish to apply for student housing, please use the following Application Form and send it to Studentenwerk Halle. Application deadlines are
January 15th

for

Summer Term

and

June 15th

for

Winter Term.
For more information on available rooms and rates, please refer to the International Office website:
http://www.international.uni-halle.de/international_office/betreuungsangebote/international_students/wohnen/
b) Sharing a flat
Most students in Halle live in shared flats. A room in a shared flat is often cheaper than in the student residences. In addition, sharing a flat is a great opportunity to improve your German language skills through direct contact with native speakers.
Many students advertise rooms in shared flats through notices on Campus (e.g. on the notice boards at Melanchtonianum, Löwengebäude, or Juridicum). Normally, these students are either looking for a flatmate, or they wish to sublet their own room for a semester because they are spending time abroad.
You can also search online on:
c) Youth Hostel
If you need a place to stay at during your first nights in Halle, we recommend staying at the youth hostel in the city centre:
2. Registration at the City of Halle
According to German law, you need to register with the city of Halle. For the registration you will need your passport and your rental contract.
You will receive a registration confirmation form, which you need e.g. to open a German bank account.
You can get more information on this website of the International Office:
http://www.international.uni-halle.de/international_office/betreuungsangebote/international_students/einreise___aufenthaltsrecht/?lang=en
Contact
Einwohnermeldeamt der Stadt Halle (im Ratshof)
Am Markt 1
06106 Halle (Saale)
phone: 0345 2214618

---
---