---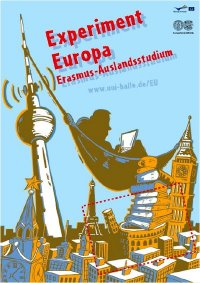 Go abroad with ERASMUS
Here you can obtain information about the ERASMUS programme, our partner faculties and the application process.
Our answers to the FAQs you will find here.
If you want to read reports from former ERASMUS students, you can find these here.
Please also note the current information hereinafter.
Dear students,
our application deadlines are:
for the winter semester: 1st of February
for the summer semester: 1st of August
*You will find the current application form in the menu on the right.*
We are looking forward to your applications!
*Please note that students for the summer semester can only be given a study place if there are remaining places that were not released in the application process for the winter semester.
Therefore, if you want to have the whole selection of study places available for your application, we recommend to apply with the students applying for the winter semester (until 1st of February).
An overview of the remaining study places for the summer semester is published on our website at the latest in May.*

News and current announcements
We are back in our office!
Appointments
* Consultation during the winter semester 2021/22:
We are happy to talk to you via skype. Please write us an email to make an appointment (erasmus@jura.uni-halle.de).
* Deadline for applications for the winter semester 2022: 1st of february 2022.
Changes in ERASMUS-Scholarships
From Autumnsemester 2019 on, the scholarships for the ERASMUS-program are going to be:
Countries of Group 1 (450,00 EUR)
Countries of Group 2 (390,00 EUR)
Countries of Group 3 (330,00 EUR)
Information regarding the application until february 2022
As we enter a new period of the erasmus agreement, some changes will happen regarding our partner universities. We try to refresh our website regularly. Still it can happen that a listed agreement does not exist anymore.
Hence write us bevor chosen a university please so we can tell you if it is still possible to go there.
ERASMUS-Büro Jura goes Facebook
Dear ERASMUS-interested students,
you can find us on Facebook from now on. To receive our latest news just like our page !
Your ERASMUS-Team
---
---